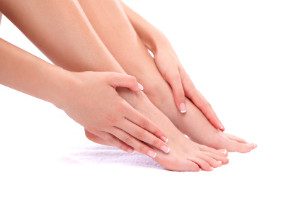 A rare condition that is known as erythromelalgia can cause a consistent, intense burning sensation in the feet. It can alter the quality of life, despite the fact it is not a fatal condition. Additional symptoms that are associated with this condition can include swelling, tenderness, and a burning feeling that can radiate to the entire foot. The symptoms often affect both feet and can be severe. This condition may develop from genetic reasons, and can happen as attacks. They can begin with itching, and may progress to severe pain. These attacks can be triggered by warm weather, sweating, exercise, or being immobile for long periods of time. If you are experiencing any of these symptoms, it is strongly suggested that you are under the care of a podiatrist who  can properly diagnose and prescribe medication that may help the symptoms of erythromelalgia. 
Some foot conditions may require additional professional care. If you have any concerns, contact one of our podiatrists of Footcare Now. Our doctors can provide the care you need to keep you pain-free and on your feet.
Rare Foot Conditions
The majority of foot conditions are common and can be treated by a podiatrist.  Standard diagnostic procedures are generally used to identify specific conditions and treatment can be rendered. A podiatrist also treats rare foot conditions which can be difficult to diagnose and may need extra attention and care. 
There are many rare foot conditions that can affect children. Some of these can include:
Freiberg's disease
Kohler's disease
Maffucci syndrome
Freiberg's disease - This can be seen as a deterioration and flattening of a metatarsal bone that exists in the ball of the foot. It typically affects pre-teen and teenage girls, but can affect anyone at any age. Symptoms that can accompany this can be swelling, stiffness, and the patient may limp. 
Kohler's disease - This often targets the bone in the arch of the foot and affects younger boys. It can lead to an interruption of the blood supply which ultimately can lead to bone deterioration. The patient may limp or experience tenderness, swelling, and redness.
Maffucci syndrome - This affects the long bones in a child's foot leading to the development of abnormal bone lesions. They are benign growths and typically develop in early childhood and the bones may be susceptible to breaking. 
A podiatrist can properly diagnose and treat all types of rare foot conditions. If your child is affected by any of these symptoms or conditions, please don't hesitate to call our office so the correct treatment method can begin.
If you have any questions please feel free to contact our offices located in Elmhurst and Jackson Heights, NY . We offer the newest diagnostic tools and technology to treat your foot and ankle needs.
 
Read more about Rare Foot Conditions